Partial list of TV, radio & print media appearances: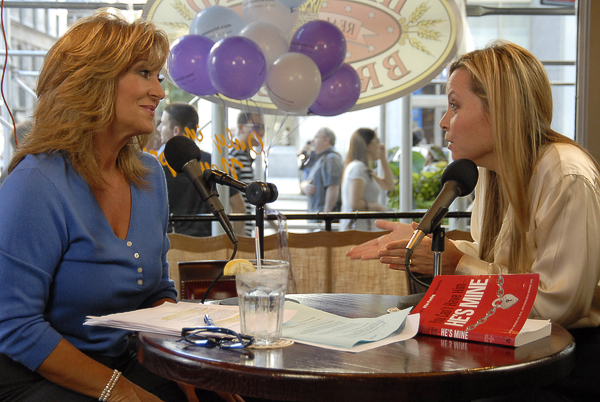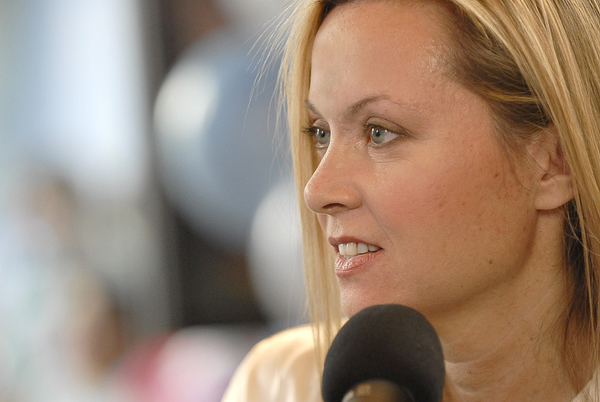 Attorney/author, Marlene Browne, appearing on the "First Wives World" show with host, Debbie Nigro, from the New York City set
"Lifestyles with Frankie Boyer" heard nationally on the Lifestyle Talk Radio Network. Marlene visited Frankie on March 1, 2016. Check again for the next visit.

"Nancy Grace" is television's only justice themed/interview/debate show, designed for those interested in the justice stories of the day. Airs weekly at 8:00 pm ET on CNN Headline News. Marlene appeared on May 13, 2014 to discuss the legal aspects of the Internet and divorce.

"Turn On Your Inner Light", a mind/body wellness radio talk show hosted by popular author, Debbie Mandel, airing Tuesday evenings from 7:00 to 7:30 pm on WGBB 1240AM in Long Island (Nassau County). Marlene's next visit is late December 2010. Listen by logging on to Debbie's Web site.

Dr. Alvin Augustus Jones, a gracious, wise talk show host whose show, "Where World Leaders & Thinkers Come To Chat," is heard mornings on WCBQ-AM 1340 & WHNC-AM 890 in Raleigh. N.C.

"It's Your Call with Lynn Doyle" an issue-oriented talk show with an interactive format that encourages viewer response. Hosted by Emmy Award-winning, Lynn Doyle, the show attracts high profile guests that speak about the matters facing the country. See Marlene speak about John Edwards's affair on Tuesday, August 12, 2008, from 9:00 to 10:00 pm EDT.

"Live the Day with Rachelle and Christen" is a radio talk show hosted by internationally renowned Action Advocate and human potential expert, Rachelle Disbennett-Lee, Ph.D. and prominent Life Success Coach, Christen Resmo. Listen to Marie's visit on Sunday, July 13, 2008, from 8:00 to 9:00 am Mountain Time. The show streams live on Web through the KKZN Web site. You can access KKZN from "Live the Day with Rachelle and Christen" by clicking on the "Listen Live" link.

"Nancy Grace" is television's only justice themed/interview/debate show, designed for those interested in the justice stories of the day. Airs weekly at 8:00 pm ET on CNN Headline News. Marlene appeared on July 3 and July 7, 2008, to discuss the legal aspects of Christie Brinkley's New York divorce.

"The Frankie Boyer Show" be sure to tune your dial to Boston's WBIX 1060am weekdays for the best in health information. Marlene talks with Frankie on July 2, 2008.

"Jami Floyd: Best Defense" on truTV (formerly, Court TV). Marlene appeared with Jami Floyd on May 30, 2008, to analyze the FLDS custody case in Texas and Dina Matos McGreevey's cross examination in the final phase of the support portion of the divorce hearing.

"Banfield & Ford: Courtside" where CNN.com and the minds behind Court TV (now truTV) have come together to bring you the best crime and justice coverage around. Marlene appeared with Ashley Banfield and Jack Ford on May 7 and 19, 2008, to discuss the divorce of former New Jersey Governor Jim McGreevey and Dina Matos McGreevey.

"One-on-One" hosted by Emmy Award-winning Steve Adubato, Ph.D., and reaching households from Maine to Virginia. Man poaching. Predatory women. We're not describing a scene from a movie, we're talking about the dating style of many women! Listen and learn as Steve talks to Marlene Browne, author of "You Can't Have Him - He's Mine" about how women can guard their mates and preserve their marriages, airing Tuesday, April 8, 2008, at 5:30 PM on the Comcast channel.

"Sunday Magazine" with host, Helen Mall on NTJ Morning Magazine on WNTJ 850 AM (Johnstown) and WNTW 990 AM (Somerset, PA), Listen for Marie and Marlene the month of March 2008.

"Valder Beebe Show" nominated twice as "Best Podcast Internet Broadcast" by Black Web Awards and reaching 10+ million listeners monthly. Listen to Marlene's second visit with Valder in the love month of February 2008, on FM Radio: 94.3 KXVI, the Bridge Network.

"The Third Age Radio Show" Santa Barbara News Press Radio, KZSB 1290 AM. Dr. Peter Brill and David Debin host this live, one-hour show featuring talks about boomers, their passions, and how they plan to spend the rest of their "third age." Marlene's and Marie's visit is on January 15, 2008.

Pat Gaudette, the published author of five books and the owner of web sites that focus on relationship issues such as dating, divorce, and midlife crisis has given "You Can't Have Him - He's Mine" two thumbs up. See Pat's video review by visiting Pat's Picks.

"The Green Team" Kelly Green & Michael Ray have been waking up West Tennessee for a while now, with their wacky brand of humor, fun & famous guests and crazy contests. Marlene visited on October 23, 2007, check for Marlene's next visit on 100.9 The Farm.

Syndicated radio talk show maven, Debbie Nigro, has begun taping her Webcast show from the window of the Heartland Restaurant at the base of the Empire State Building in New York City. Debbie mixes it up with celebs, relationship experts, authors, and surprise guests. Marlene will be Debbie's guest in the NYC studio on Monday, September 24, 2007. Check out Debbie's blog for more dish on what's coming up on "First Wives World", a place to connect and share information. Divorce happens ... but you don't have to do it alone.

"Something You Should Know" a national radio program heard on over 150 stations across the U.S. featuring celebrated creator and veteran media host, Mike Carruthers. Check for Marlene's next visit the week of September 6, 2007.

CNN-TV HEADLINE NEWS's "Showbiz Tonight" interview with Brooke Anderson, 22 May 2007.

The New York Times, Sifting Through the Ruins of Infidelity, by Mireya Navarro, Published: May 6, 2007. "What constitutes cheating? Why did they do it? And where do we go from here?"

Newsday, Advice: High Seasion for Cheating, by Pat Burson, Published: June 18, 2007, "Summer offers more opportunities to stray, so wives (and husbands) should be extra vigilant."

"The Early Show" CBS News' weekday morning broadcast with Harry Smith, Hannah Storm, Julie Chen, and Rene Syler. See Marlene Browne discuss "Divorce, Money, and Mediation."

"The Saturday Early Show" with host, Tracy Smith, 21 April 2007.

"Forbes.com" Marlene writes and talks about divorce, marriage, and financial matters.

FOX 5/WNYW's "Good Day, New York" New York's only live, locally produced news and information morning show, 7 May 2007.

CourtTV's "Catherine Crier Live."

"The Good Life Show" with host, Jesse Dylan, Sirius Satellite Radio/Lime Radio Channel, check for Marie and Marlene's next visit on September 5, at 2:30 pm.

"The Radio Ritas", Maureen Langan and Diane Dimond, bring mornings alive with lifestyle news, amazing views, and riveting interviews as they call on a cast of reporters, regulars and listeners too! Listen live, Weekdays 6am - 9 am ET or check out the podcast.

Westfield Leader, May 10, 2007, review by Marylou Morano.

"Afternoon Advice" with host, Tiffany Granath, for Playboy Radio on Sirius Satellite. The show can be heard on Playboy Radio channel 198, between the hours of 11am and 2pm PST. Callers welcome at: 1 (877) 205-9796.

"Real Life" with Emmy Award-winning host, Mary Amoroso, a Comcast Cable CN8 show with a reach that spans more than 9 million homes across 13 television markets.

"Breaking the Conspiracy of Silence" hosted by Kathleen Brooks, Ph.D., a talk show designed to both feature experts in the area of child sexual abuse and offer an arena for people who are concerned about this issue to discuss and share their experiences of courageously facing and healing this global epidemic. Listen March 21, 2007 at 5:00 pm EDT, or listen to the show by logging on to the archives.

"The American Family Podcast" a discussion-based show sponsored by Whirlpool® Home Appliance and moderated by guest host, Gigi Lubin, exploring a range of issues--parenting, education, career, health, relationships, and more--affecting today's American families. Listen live March 9, 2007 at 2:00 pm EST, or by visiting the American Family Podcast site.

"The Jim Bohannon Show" a nationally syndicated, Westwood One Radio talk show with discussion, guest interviews, and open phone lines, airing Monday through Friday, 10:00 pm - 1:00 am, and featuring Larry King's replacement and Radio Hall of Fame Host, Jim Bohannon.

"The Ronn Owens Show" of KGO Newstalk, AM810, San Francisco, CA. Ronn was selected by the National Association of Broadcasters as Major Market Personality of the Year. Check for Marlene's next visit with Ronn.

Tampa NBC affiliate, WFLA's "Daytime."

"Good Morning San Diego" on KUSI TV Channel 9 Morning News (San Diego, CA).

"The World According to Judith" of WCTC, 1450 AM, Central New Jersey, weekdays from 3:00 PM – 6:00 PM., with popular host, Judith Leblein, a staple in cable television, a world-class speaker, and an author in her own right.

"Lifetime Radio for Women®" the morning drive show hosted by Donna Britt.

USA Today News Radio with Maggie Linton.

"Positive Parenting" a national radio show hosted by Armin Brott, a nationally recognized parenting expert and best selling author, known worldwide as "Mr. Dad," in which he interviews expert guests about important and timely topics of interest to parents and families. Armin offers an upbeat, informative, and engaging program filled with advice you can use. Choose streaming MP3 or Podcast, courtesy KOIT San Francisco or tune in Live to Bay Area airwaves or streaming web audio: Sundays at 8 a.m. PST: KOIT (96.5 FM/1260 AM); Sundays at 6 a.m. EST: WGMS (103.5FM). Check for future show dates.

"The Michael Dresser Show" airing on Saturday at 12:00 noon Eastern, 11:00am Central, 9:00am Pacific, and 8:00am in Alaska on the USA Radio Network. Listen on affiliate stations or streaming on the internet. Check for the Brownes' next visit.

"Conversations" with host, with Judith Leblein, featuring thought provoking, one-on-one conversations about the issues of the day. Seen on EBTV.

"F.I.T." hosted by, Julie Isphording, one of the best marathon runners in the world. Mondays at 12 noon, 91.7 FM, WVXU-FM, Cincinnati, OH.

"Reading with Robin" a radio talk show devoted to authors, readers, and their favorite--and not so favorite--books, with creator and host, Robin Kall. Listen Saturdays 7-8AM on WHJJ 920AM, Providence, RI.

"The Right Balance" a nationally syndicated show with host, Greg Allen, who does talk radio with a different spin of the dial, putting the emphasis on the guest and the topic at hand. Check for Marlene's next visit with Greg.

KYW Newsradio in Philadelphia, featured with Cheryl Ginn Elias, an award-winning career broadcast journalist with extensive network and major market experience in both radio and television.

"Parent-to-Parent with Dianne Couris" on Tan Talk Radio Network in the greater Tampa Bay area of Florida, Wednesdays at noon.

News Channel 8's "Midday Show" with Dave Lucas and Julie Parker (Wash. DC metro area).

News Channel 8's "News Talk" with Emmy Award-winning host, Kyle Osborne (Wash. DC metro area).

Ft. Myers CBS affiliate, WINK-TV's Hello, South Western Florida with co-host, Triston Sanders.

Cablevision's "Morning News" Westchester County, N.Y.

WEIM 1280 AM Fitchburg, MA., on Ray C's excellent morning show.

News 12 Connecticut's "The Exchange," the five-time ACE award-winning program, including the 1995 CableACE for "Best Local Cable Talk Show" in the nation, with popular hosts David Smith and Rebecca Surran.

"The Tony Trupiano Show" a late night talk show syndicated nationally through the SSI Radio Network.

"10!" Philly's live, locally produced, highest rated mid-morning news and information show on NBC's Channel 10, WCAU-TV.

Cablevision's "Jersey's Talking with Lee Leonard," a primetime TV talk show seen in 1.8 million households throughout the state through September 2002, and hosted by beloved New York area host, Lee Leonard.

USA Today

Chicago Tribune's Ask Amy by Amy Dickinson, the great personal advice columnist featured in over 53 newspapers nationwide.

Speak Up the award winning column, seen by over a million readers in Gannett newspapers nationwide, about life issues and relationships by Jennifer Lock Oman (clinical social worker and psychotherapist specializing in marriage, family, grief, and relationship counseling).

Alive and Kickin' the hugely popular column by editor, writer, and wisdom giver, Diana Fasanella, appearing every Wednesday in the Asbury Park Press, the Jersey Shore's largest news source.

Kiplinger's Personal Finance Magazine, July 2005, A Civil Divorce, article by Mark Solheim, Senior Editor.

New Jersey Monthly Magazine, July 2005, Conversation with Steve Adubato, Ph.D.

The Christian Science Monitor

The Arizona Republic (Gannett)

The News Tribune, Tacoma, WA

El Paso Times (Gannett)

Express-News, San Antonio, TX

Star Ledger, Newark NJ

Courier-News, Somerset, NJ (Gannett)

Investment Advisor

Scripps Treasure Coast Publishing Co. (publishing the papers of Florida's Treasure Coast and Palm Beaches)

San Jose Mercury-News

New Jersey Lawyer Magazine, February 2005, Lawyer's Bookshelf, review by Steven Richman, Esq.

Charlotte Observer

Westfield Leader, April 21, 2005, (scroll to last page, 22) review by Marylou Morano.


Attorney/author, Marlene Browne, after appearing on "Daytime" and at the KGO studio in San Fran with celebrated talk radio host, Ronn Owens, in 2004, and again in 2005, with Ronn and his producer, Mark.

Attorney/author, Marlene Browne with host, Lee Leonard and singer/songwriter, Cliff Eberhardt after appearing on "Jersey's Talking with Lee Leonard," on December 12, 2001. Photos by Anne Safran Dalin, editor of, "Life's a Stitch."

Table of Contents
"Jersey's Talking" Information Page
"The Exchange" Information Page
Dedication Page
Home Page
The Boomer's Guide to Divorce: And a New Life
© 2004-2016 Marlene M. Browne. All Rights Reserved.